Free courier delivery from 200 PLN

Order and we will send the goods in 24 hours!

14-day return guarantee

Polish company, 25 years on the market
While your loved one has gone, their memory remains. But memory is lost when we no longer honour them. Grave lanterns and artificial flowers are a token of commemoration, homage and respect. A beautiful, well-maintained grave is an expression of love. This is also a way of taking care of our loved ones who have passed away. FENIX offers something to suit every taste – a wide range of paraffin- and oil-based grave lantern inserts, as well as a large number of lanterns with various decorative patterns to choose from. FENIX, a grave lantern manufacturer is also a distributor of artificial flowers, offering single flowers, flower selections, bouquets, arrangements and unique accessories. Our company caters for customers, both retail and wholesale, at home in Poland and abroad. We offer products at affordable prices and short delivery times.
150,00

zł

z VAT (121,95

zł

netto)
FENIX, a grave lantern manufacturer
FENIX is a manufacturer of grave lanterns with a market presence of over 25 years. Our top priority is to provide customers with products tailored to their needs. This is exactly why we work hard to expand our offering, as we ensure professional service. We use state-of-the-art technology, and the materials and supplies we use in production are carefully sourced and thoroughly tested. This particular combination is the recipe for customer satisfaction which to us is the most important reward and an encouragement to continue the good work.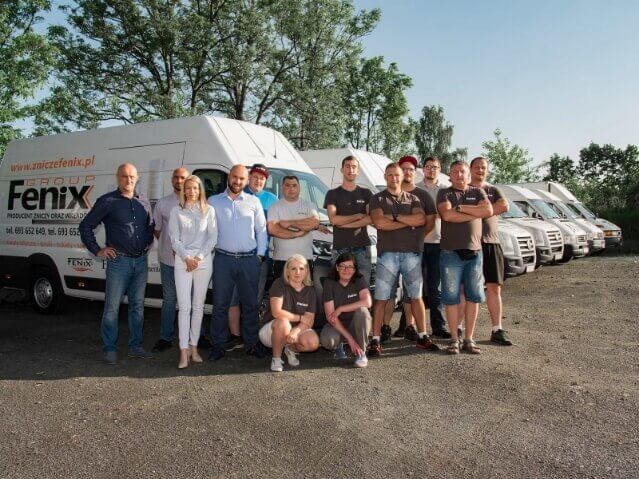 Grave lanterns, artificial flowers and accessories – FENIX
The online grave lantern shop offers paraffin-/oil-based inserts, artificial flowers, as well as a large variety of grave lanterns, complete with decorative figurines and accessories. We are a manufacturer of grave lanterns with a very extensive offering to give our customers the options to suit their individual preferences. Our outlet is a one-stop shop for all your purchases that you need to make a tombstone presentable.
Flowers and decorative figures, or how to create a unique decor
Artificial flowers last much longer than real ones and will beautifully decorate a grave for a long time. We offer a wide range of products: single flowers, bouquets, pot plants, decorative leaves and custom arrangements. Dolnośląskie, a grave lantern manufacturer offers a tailored range of products to choose from where sky's the limit when it comes to variety.
Decorative figurines are unique accessories designed to beautify graves. Coming in the shape of angels dressed in long, flowing gowns, these figures are not only incredibly stylish and fetching, but also charming, delicate and subtle. Variations are available, with baby angels resting on their wings and holding a candle light in their hands. These items are really interesting and well worth your time.
Want to commemorate a loved one? Choose some original grave lanterns
Lanterns bought online make up the largest part of our stocks. The products that we offer include:
glass, plastic and ceramic lanterns with cast candles,
refillable glass, plastic and ceramic lanterns,
themed lanterns.
All FENIX lanterns with cast candles are high-quality products distinguished by their long service life and attention to detail. It's up to you which model you choose.
Lanterns with a cast candle – these are glass containers sourced from Polish factories, filled with paraffin. Thanks to a state-of-the-art design, this model burns out the entire paraffin. This model comes in all shapes and sizes to suit your particular preferences.
Refillable lanterns – these are extremely practical lanterns with a removable insert that can be replaced when it's burnt out.
Themed candles – these are special items designed specifically for Easter and Christmas.
Demand for grave lanterns in Poland peaks around late October, just before All Saints' Day. It is important, however, to remember about our loved ones and ancestors who passed away all year round, not just on special occasions. You're welcome to buy our unique lanterns, flowers and accessories..